It was my pleasure to deliver the keynote address at the opening ceremony of the 11th Days of the Bosnian-Herzegovinian American Academy of Arts and Sciences (BHAAAS) on June 20, 2019 at the City Hall in Sarajevo.  The audience was comprised of distinguished BHAAAS members – scientists, artists and practitioners from both the U.S. and BiH, all of whom have come together to build bridges of cooperation with their homeland.  Below are my remarks from the event: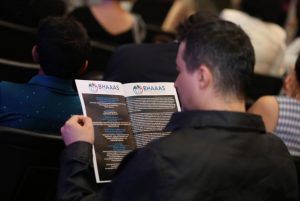 I am proud to be here this evening and have the chance to speak with you all.  I commend Minister Borovac and her team at the Ministry of Human Rights and Refugees, and the entire preparatory committee of Mssrs. Festic and Volic, for their tremendous work to organize this conference.
In this digital age of globalization, when borders are easily and instantly crossed, Bosnia and Herzegovina has a largely untapped comparative advantage:  Relative to its population, BiH has one of the largest diasporas, which is spread across more than 100 countries. Some 2 million Bosnians live, work and succeed abroad.
To the Bosnian diaspora who organized this conference and traveled from the United States, I extend a special warm welcome. Your presence is a clear indication of your strong commitment to developing your homeland, Bosnia and Herzegovina, the land you still love.
Every year, the Bosnian-Herzegovinian American Academy for Arts and Sciences brings hundreds of medical doctors, scientists, professors, and artists of Bosnian-Herzegovinian heritage to share their knowledge and expertise with colleagues and students here.
This year the conference will feature 16 symposia in medical and technical sciences with over 300 presenters. The plenary session on STEM education in BiH mirrors one of the priorities of our assistance to BiH.  Through its ENABLE project, USAID is strengthening STEM competencies among students and teachers in pilot schools throughout BiH.
U.S. Embassy exchange programs support young people's ambition and curiosity, with an important caveat. Participants must return to BiH to share the knowledge they gained through these programs. We see young people as the best investment for a brighter future.
Unfortunately, BiH does not enjoy a comparative advantage for ease of doing business. That hinders investment and job creation.  But diaspora investors have the savvy and determination to succeed. To help them, the U.S. government established the USAID Diaspora Invest project.
Over the past 20 months, USAID has assisted diaspora investors from 20 countries. To date, these investors have already invested more than $7 million in the local economy and created more than 260 jobs.
Imagine what we can do if this is scaled up. To do so, Diaspora Invest is working closely with the Ministry of Human Rights and Refugees to create diaspora investment strategies to improve this process. I hope that the BiH Council of Ministers will adopt these documents soon.
I invite you and other diaspora members to be part of this success story. Your capital, knowledge and networks can be put to great use here. Working together, side by side, the diaspora can help transform this country into a land of opportunity – a country that people will not want to leave but will happily return to.
Luckily, we live in a time when it has never been easier to connect and share. Thus, I invite you to join us on the above page and other social media platforms to build a broad and diverse coalition to facilitate investment – and positive change – in BiH.
Thank you for your interest and readiness to invest in the advancement of BiH. Your support through BHAAAS helps bring the tremendous success of Bosnians and Herzegovinians living abroad, home again. Thank you.
Preuzeto: Linkedin
Prijevod obraćanja ambasadora SAD u BiH Erica Nelsona na svečanom otvaranju 11 Dana BHAAAS-a – možete pogledati ovdje.